SLOTRIB '16
SLOTRIB '16
International Conference on Tribology: Conference on Tribology, Cooling Fluids and Technical Diagnostics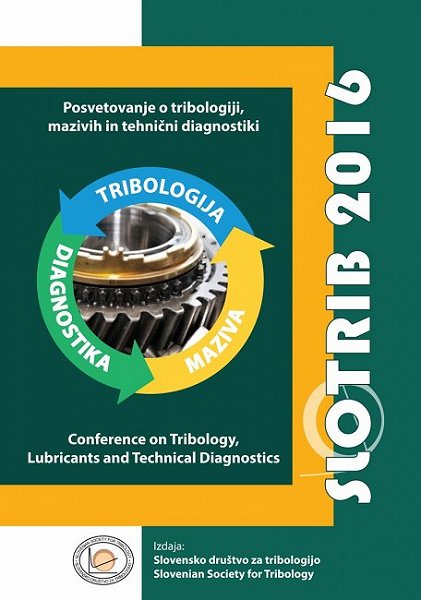 Ljubljana, Slovenia
17. november 2016
EDITORS
Prof. Mitjan Kalin, Fakulteta za strojništvo, Univerza v Ljubljani
Dr. Marko Polajnar, Fakulteta za strojništvo, Univerza v Ljubljani
Maja Kus, Fakulteta za strojništvo, Univerza v Ljubljani
PUBLISHER
Slovenian Soceity for Tribology
_____________________________________________________________________________________________________________
CONTENT
_____________________________________________________________________________________________

SECTION I
1. Emisijski izzivi alternativne mobilnosti
M. Svoljšak Jerman; Petrol d.d., Ljubljana, Slovenija
2. Proizvodnja, kvaliteta in distribucija AdBlue®
B. Kus, J. Mohorko, V. Tič; Olma d.o.o., Ljubljana, Slovenija
3. Razvoj hidravličnih filtrov
1F. Majdič, 1R. Strmčnik, 2M. Tomšič; 1 Univerza v Ljubljani, Fakulteta za strojništvo, Slovenija; 2TRM filter, d. o. o., Ljubljana - Dobrunje, Slovenija
4. Vizualizacija načrtovanih ustavitev
S. Ciglar; Količevo Karton, d.o.o., Domžale, Slovenija
SECTION II
1. Nanocevke MoS2 za znižanje trenja in obrabe
1,2M. Remškar, 1S. Paskvale, 1M. Čekada, 3A. Tomala, 3M. Rodríguez Ripoll; 1Institut Jožef Stefan, Ljubljana; 2Nanotul d.o.o., Ljubljana, Slovenija; 3AC2T research GmbH, Wiener Neustadt, Avstrija
2. Razvoj mazalnega olja za izsekovanje aluminijastih rondelic
J. Mohorko, B. Kus; Olma d.d, Ljubljana, Slovenija
3. Uporaba diagnostike v industrijski praksi
1,2S. Ulaga; 1University of Maribor, Faculty of Mechanical Engineering, Maribor, Slovenia; 2Tinex industrijska diagnostika d.o.o.
4. Obraba in utrujanje polimernih zobnikov
M. Kalin, A. Kupec; Univerza v Ljubljani, Fakulteta za strojništvo, Slovenija
SECTION III
1. SKF asset efficiency optimisation model and benchmarking with world class industry
G. Sablič; SKF Slovenija d.o.o.
2. Izbira primernega turbinskega olja na podlagi testiranj
1D. Lovrenc, 2B. Gregorc, 1V. Tič; 1Univerza v Mariboru, Fakulteta za strojništvo, Slovenija; 2DEM - Dravske elektrarne Maribor, Slovenija
3. Razvoj spletne baze podatkov za spremljanje stanja svežih in rabljenih maziv
V. Tič, J. Mohorko; Olma d.o.o., Ljubljana, Slovenija
4. Closed loop test rig for testing the precise gears
S. Pehan, S. Glodež; Univerza v Mariboru, Fakulteta za strojništvo, Slovenija
SECTION IV
1. Mechanistic modeling in system engineering vehicle thermal management
1T. Katrašnik, 2Roman Heinzle, 3Titina Banjac and 4J.C.Wurzenberger; 1University of Ljubljana, Faculty of Mechanical Engineering, Ljubljana, Slovenia; 2MathConsult GmbH, Linz, Austria; 3Extreme d.o.o., Ljubljana, Slovenia; 4AVL List GmbH, Graz, Austria
2. Tribološke lastnosti kontaktnih materialov v električnih drsnih kontaktih
1D. Poljanec, 2M. Kalin; 1Kolektor Group d.o.o., Idrija, Slovenija; 2Univerza v Ljubljani, Fakulteta za strojništvo, Ljubljana, Slovenija
3. Study the chemical structure of the ZDDP thermal film on steel and DLC surfaces at different times and ZDDP concentrations using ATR-FTIR and XPS
1S. Akbari, 2J. Kovač, 1M. Kalin; 1University of Ljubljana, Faculty of Mechanical Engineering, Ljubljana, Slovenia; 2Jozef Stefan Institute, Ljubljana, Slovenia
4. Izboljšanje skupnega izkoristka hidravličnega motorja
E. Strmčnik, R. Jelovčan, F. Majdič; Univerza v Ljubljani, Fakulteta za strojništvo, Slovenija
POSTER SECTION
1. Uporaba nevtronske reflektometrije za analizo adsorpcije tankih plasti na prevlekah iz diamantu podobnega ogljika
L. Čoga, M. Kalin; Univerza v Ljubljani, Fakulteta za strojništvo, Slovenija
2. Trdna maziva za masivno preoblikovanje aluminijeve zlitine v hladnem in vročem 1,2J. Jerina, 2M. Kalin; 1Iskra Mehanizmi d.o.o, Slovenija; Univerza v Ljubljani, Fakulteta za strojništvo, Slovenija
3. Changes in dimenisonal stability and mass of polymer gears due to water absorption
A. Kupec, K. Breskvar, M. Kalin; Univerza v Ljubljani, Fakulteta za strojništvo, Slovenija
4. Merjenje dinamične omočljivosti z mazalnimi olji
M. Kus, M. Kalin, Univerza v Ljubljani, Fakulteta za strojništvo, Slovenija

5. Uporaba trdnih maziv v triboloških aplikacijah pri visokih temperaturah
1M. Lijewski, 1V. Leshchynsky, 1H. Wisniewska, 2I. Dobrovnik; 1Metal forming Institute Poznan, Poljska; 2Gazela d.o.o. Krško, Slovenija
6. Vloga funkcionalne gradientne cone nodularne litine pri delovanju zavor
1M. Polajnar, 1M. Kalin, 2I. Þorbjörnsson, 3J. T. Thorgrimsson, 4N. Valle, 4A. Botor-Probierz;1Univerza v Ljubljani, Fakulteta za strojništvo, Ljubljana; 2Iceland GeoSurvey – ISOR, Reykjavik, Islandija; 3Malmsteypa Thorgrims Jonssonar ehf., Gardabaer, Islandija; 4Luxembourg Institute of Science and Technology, Materials Research and Technology, Belavux, Luxemburg
7. Uporaba statističnih metod za vrednotenje učinkovitosti mazanih triboloških kontaktov
K. Simonović, M. Kalin; Univerza v Ljubljani, Fakulteta za strojništvo, Slovenija
8. Vpliv topografskih in materialnih lastnosti na razvoj kontaktne površine pri pogojih statičnega obremnejevanja
B. Brodnik Žugelj, M. Kalin; Univerza v Ljubljani, Fakulteta za strojništvo, Slovenija
Sponsors and exhibitors
I. Sponsors
OLMA d.d., Ljubljana
PETROL d.d., Ljubljana
II. Exibitors
IRT
Hennlich d.o.o., Kranj
HYDAC, d.o.o., Maribor
LFT, Fakulteta za strojništvo, Univerza v Ljubljani
SCAN d.o.o., Preddvor
Ventil