Conference SLOTRIB
Slotrib is a Slovenian conference covering different fields of tribology. Every second year it is organized by Slovenian Society for Tribology. At the beginning, conferences were very general but lately every conference is dedicated to specific theme, that is recognized as most appropriate and current by members of Society.
SLOTRIB 2018
SLOTRIB 2018 was held on 20ᵗʰ of November 2018 in Ljubljana, Slovenia, in Radisson Blu Plaza Hotel.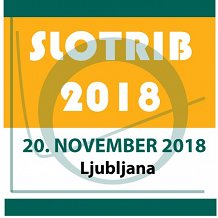 The topics covered all aspects of tribology, lubricants and technical diagnostics. More information can be found on the SLOTRIB 2018 Flyer.
The final conference programme is available here.


INFORMATION FOR AUTHORS
Conference will start at 9 am, registration will take place from 8 am onwards.
For registration to the SLOTRIB 2018 conference please fill out the application form and email it to slotrib@tint.fs.uni-lj.si.
Sponsors and exhibitors are welcome to participate in SLOTRIB 2018 conference. Please contact us at
slotrib@tint.fs.uni-lj.si for further information.
Participants are welcome to present their work in the form of an oral presentation or a poster. Title of the presentation or poster together with a 200 words abstract should be sent to by the 20th of October 2018. Authors will be informed about the acceptance of their work by the 31st of October 2018.
Authors, who would like to prepare a full manuscript, please use the Manuscript Template and send it to slotrib@tint.fs.uni-lj.si by the 8th of November 2018.
CONTACT
Ms. Joži Sterle
Bogišićeva 8
1000 Ljubljana
Slovenia
Telephone: +386 1 4771 460
Fax: +386 1 4771 469
e-mail: slotrib@tint.fs.uni-lj.si
web page: www.tint.fs.uni-lj.si
SCIENTIFIC COMMITTEE
Aleš Arnšek, Petrol d.d., Ljubljana
Darko Cafuta, Slovenian Maintenance Society
Lucija Čoga, Faculty of Mechanical Engineering, University of Ljubljana
Uroš Gorjanc, Olma d.o.o., Ljubljana
Mitjan Kalin, Faculty of Mechanical Engineering, University of Ljubljana
Marko Polajnar, Faculty of Mechanical Engineering, University of Ljubljana
Maja Remškar, Jožef Stefan Institute, Ljubljana, Slovenia
ORGANISING COMMITTEE
Muhammad Shahid Arshad, Faculty of Mechanical Engineering, University of Ljubljana
Blaž Brodnik Žugelj, Hella Saturnus Slovenija d.o.o., Ljubljana
Dejan Poljanec, Kolektor Group d.o.o., Idrija
Janez Kogovšek, Hella Saturnus Slovenija d.o.o., Ljubljana
Maja Kus, Faculty of Mechanical Engineering, University of Ljubljana
Joži Sterle, Faculty of Mechanical Engineering, University of Ljubljana
Franci Kopač, Faculty of Mechanical Engineering, University of Ljubljana
Arhiv posvetovanj