Conference SLOTRIB
Slotrib is a Slovenian conference covering different fields of tribology. Every second year it is organized by Slovenian Society for Tribology. At the beginning, conferences were very general but lately every conference is dedicated to specific theme, that is recognized as most appropriate and current by members of Society.
SLOTRIB 2020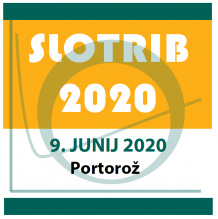 The SLOTRIB 2020 conference will be held as part of the 12th Industrial forum of innovation, development and technology IRT 2020 this time. The IRT 2020 event will take place on 8th and 9th of June 2020 in Mind Hotel Slovenija, Portorož, Slovenia, with SLOTRIB 2020 occurring on the second day, on 9th of June 2020.
SLOTRIB 2020 conference has been postponed to 2022 due to the ongoing situation with Covid-19 outbreak. Thank you for your understanding.
CONTACT
Ms. Joži Sterle
Bogišićeva 8
1000 Ljubljana
Slovenia
Telephone: +386 1 4771 460
Fax: +386 1 4771 469
e-mail: slotrib@tint.fs.uni-lj.si
web page: www.tint.fs.uni-lj.si
Arhiv posvetovanj