ECOTRIB 2017, Ljubljana, Slovenia, 7-9 June 2017
The European COnference on TRIBology 2017 (ECOTRIB 2017) was the sixth biennial conference organized in collaboration between the Austrian, Italian, Slovenian and Swiss Tribology societies.
ECOTRIB 2017 was held between the 7ᵗʰ and 9ᵗʰ of June in Cankarjev dom in Ljubljana, Slovenia.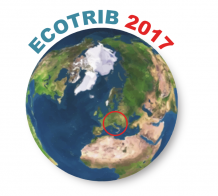 More information about ECOTRIB 2017 conference can be found at http://www.tint-ecotrib.com.
Ecotrib 2017 covered all areas of tribology, such as
biotribology and biotribomaterials,
coatings and surface engineering,
friction, wear and contact mechanisms,
green tribology,
industrial, automotive and manufacturing case studies,
lubrication and lubricants, including solid lubricants,
modeling and simulations in tribology,
nano and microtribology,
tribochemistry and
tribocorrosion.

Organizing committee:​
Aleš Arnšek, Petrol d.d. (Slovenia)
Ewald Badisch, AC2T research GmbH (Austria)
Enrico Ciulli, University of Pisa (Italy)
Rowena Crockett, Empa (Switzerland)
Uroš Gorjanc, Olma d.o.o. (Slovenia)
Mousab Hadad, Nova Swiss AG (Switzerland)
Janez Kogovšek, University of Ljubljana (Slovenia)
Andreas Pauschitz, AC2T research GmbH (Austria)
Adolfo Senatore, University of Salerno (Italy)

Scientific committee:
Mitjan Kalin, University of Ljubljana (Slovenia) - Conference chair ​
Giuseppe Carbone, Politecnico di Bari (Italy)
Lucija Čoga, University of Ljubljana (Slovenia)
Nicole Dörr, AC2T research GmbH (Austria)
Friedrich Franek, Austrian Tribology Society (ÖTG) (Austria)
Alja Kupec, University of Ljubljana (Slovenia)
Paolo Pennacchi, Politecnico di Milano (Italy)
Gerwin Preisinger, SKF Österreich AG (Austria)
Marko Polajnar, University of Ljubljana (Slovenia)
Alessandro Ruggiero, Università degli Studi di Salerno Fisciano (Italy)
Nicholas D. Spencer, ETH Zürich (Switzerland)
​