Chair for Tribology and Maintenance Systems
Chair for Tribology and Maintenance Systems, headed by prof. Kalin, consists of two laboratories and acts in the fields of tribology, surface and contact engineering, interface nanotechnology, maintenance of technical systems, technical diagnostics, mechanical power transmissions and power-control hydraulics.
Organization and research work
Chair for Tribology and Maintenance Systems is divided into two parts: Laboratory for Tribology and Interface Nanotechnology and Laboratory for Fluid Power and Controls.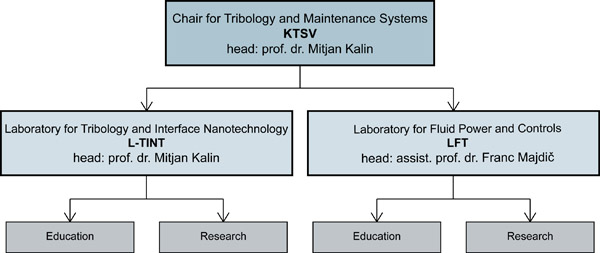 Research areas
Laboratory for Tribology and Interface Nanotechnology
Tribological properties and characteristics of contact surfaces and advanced mechanical systems.
Study of friction and wear of materials (conventional, ceramics, polymers, coatings, nanocomposites, MMC, etc).
Lubricants and lubrication, green lubrication technologies.
Additives, tribochemistry, boundary lubrication.
Boundary surface films, solid lubricants, self-lubricating films and materials.
Nanotechnology, interface phenomena.
Surface engineering, tribochemical reactions, topography design and texturing, application of modified and coated surfaces.
Theoretical and practical research of power systems with use of heat treated surfaces and biodegradable lubricants.
Functional and effective operation of power trains.
Development of mechanical seals, brakes and other sliding elements from advanced materials.
Development of integrated diagnostic systems for mechanical drives and maintenance technologies.
Monitoring, diagnostics and prediction of failures in mechanical systems and maintenance technologies.
Tribology in power-control hydraulics.
At their work the researchers cooperate with over 30 centres, institutes and universities in Europe and worldwide. Members of the Chair for Tribology and Maintenance Systems transfer the research accomplishments to their undergraduate and graduate students and through conferences and seminars to corporate engineers as well.
Leading members of the Chair for Tribology and Maintenance Systems received many rewards for their scientific and research work - on the national level a Zois Award, two Zois Certificate of Recognition and the highest award of the University of Ljubljana and on the international level STLE award, ASME award, etc. The group has published numerous international publications of the highest rank and is internationally recognized and appreciated, which is reflected in many citations, invited lectures, management of professional and scientific associations, organization of conferences domestically and abroad and has 8 patents.
Laboratory for Fluid Power and Controls
Research areas:
Systems, control circuits, modules and components of power-controlled hydraulics.
Maintenance of hydraulics components and systems.
Liquids in systems.
Development of applicative solutions.
Research and development of hydraulics components and water hydraulics system.
Education
Members of Chair for Tribology and Maintenance Systems are teaching students on the Faculty of Mechanical Engineering in Ljubljana and occasionally organize seminars for the industry.
I. Level Research and Development Programme (RDP)
Tribology
Hydraulics and pneumatics
Engineering design
I. Level Project Applicative Programme (PAP)
Technical design
Lubricants and lubrication
Wear resistant surfaces
Power trains
Technical diagnostic
Aircraft maintenance
Maintenance technologies
II. Level Programme
Contact mechanics
Industrial maintenance
Maintenance technologies
Mechanical power transmissions
Nanotechnologies
Technical diagnostic
III. Level Programme
Tribology
Surface engineering
Technical diagnostics
The professors with appropriate titles are also mentors for undergraduate and postgraduate students in diploma, masters and PhD theses and in specialistic study Management of Maintenance Technologies.