Tribology of advanced mechanical systems
We deal with research and development for tribologically-optimized mechanical systems. With knowledge and experience in the field of lubrication, materials, functional surfaces and topography, nanotribology and use of modern theoretical models, calculations and simulations, current knowledge and experimental work with the latest research equipment we provide innovative solutions to the expert level.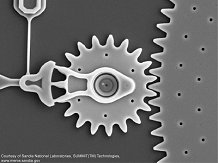 With this experience, we work in the fields of construction tribological-weighted mechanical systems, the development of functional areas and topography, the selection of materials and surface treatments, technology and the use of protective surface coatings, determination and control of lubricants and additives. We solve problems at the level of application solutions and comprehensive scientific in-depth analysis. In the foreground are the following topics:
Development of tribological-optimized systems and structures for low friction and wear.
Super-low friction.
Enabling high friction with low wear.
Use of hard protective coatings and self-lubricating coatings and materials.
Optimising synergistic effects between lubricants and materials.
Designing interfaces - enabling formation of protective boundary films.
Solutions to reduce environmental emissions (Green Tribology).
Biotribology.
Reference Projects: